Sunny South Africa shines in this restaurant nestled in London Bridge.

Few restaurants serve beef biltong and beef droëwors as pre-dinner snacks, but they certainly change to olives and nuts.
Vivat Bacchus makes its own biltong and droëwors, the former is dried silverside, sea salt and spices, while the droëwors is dried silverside, sea salt and spices.
Originally created to be the kind of dry snack you could carry for days on the go, both are now much-loved delicacies in South Africa and come in all sorts of textures and flavors.
I was rather expecting something austere and hard, something that I would chew again a few days later, but both are actually a perfect blend of soft and chewy and are totally addictive. We almost order another round.
Other South African foods are not on the menu, no karoo lamb, ostrich or game, but South African wines do appear, but not to the exclusion of other new or old wines. Old World.
Of course, with a name like Vivat Bacchus, it's no surprise the place focuses on wine, indeed inside they've used old wood from vine barrels to line the walls. This gives it a bit of the atmosphere of a winery, or that of an old wine bar in the City, quite masculine.
We identify as two guys so we felt at home with our bare wood table and at least one of us has a manly eye on the steaks on offer.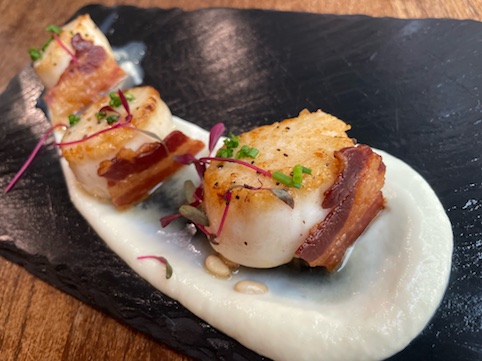 I sail first in the hot-smoked Scottish salmon, with red chicory, beetroot trio, horseradish cream and dill oil. Something of a classic on menus from a few years ago, it still works well. A fine and firm salmon with bitter chicory and sweet beets that go together perfectly. The horseradish cream and dill oil really help it all the way.
Seared scallops with mashed cauliflower, pine nuts and crispy pancetta is once again decidedly old school, but why fix what ain't broke? S thought his scallops might be a little overcooked, but we both agree it's still better than done, and he eats a lot of them.
The wines by the glass, white for S and red for me, were recommended by the waiter and we were happy with both. Little tasters were offered before hiring us, which is something you don't get everywhere. The red house mix was especially good for the money.
Pan-fried sea bass with sautéed broccoli, wild mushrooms, mashed cauliflower, crispy artichokes is good. The skin is nicely crispy. All the pieces around support the fish, without focusing too much on the main attraction.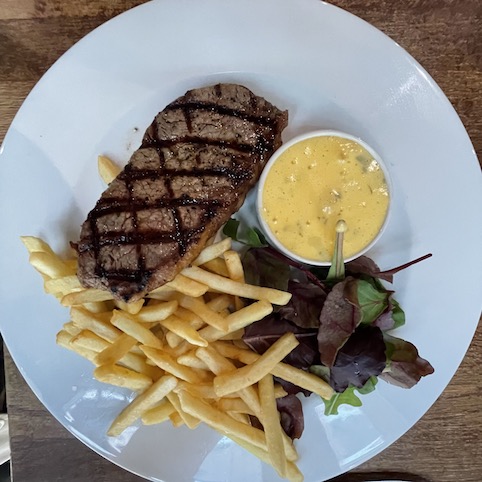 I have fries, it's naughty of me but nice, although I don't really need the "red sauce" on the side. I'm dipping my chips in it anyway, because I'm a terrible person.
S is old school with steak, triple cooked fries and mixed baby leaves. The meat is 21 day old British beef from the Surrey hills and it signals a very good well done steak, medium rare. Sauces are available, including the Monkey Gland sauce which "contains no monkeys", our server reassures us, "it's just very spicy".
Cheesecake to finish for me, and a few glasses of a standout dessert wine called Kaapzicht for S which was full of steak. Beautiful well-crafted cheesecake.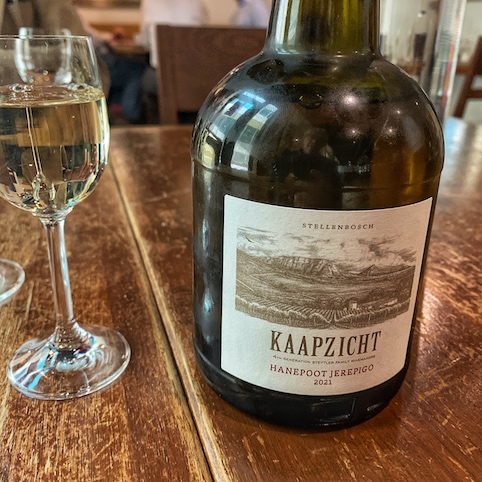 Vivat Bacchus London Bridge suffers a bit from being hidden behind Pret, and inside it could do with a 2020s refresh to spice up the proceedings a bit, but the food is wholesome and sensible and the lunch is good value. For locals, it's a good choice and tourists who are fed up with rip-offs should turn to it gratefully.