Something certainly has to be said about a restaurant that shows up full every time you try to book a visit.
No matter the day or time, whenever I have the chance in Dundee I make a conscious effort to try and get a table at Selkie on Exchange Street, usually with very little luck.
However, a few weeks ago I finally did.
By booking online in the morning, I was delighted to finally have the chance to try the Tapas Tuesday offer of the place.
I had heard so many rave reviews from friends and colleagues that my expectations were high.
The Selkie
It was a glorious night in Dundee and everyone was out enjoying the sunshine. Walking along the street I could see the front door prompt open and there was an air conditioning unit inside that was working overtime to keep everyone cool.
I perched on the available seats near the unit, which provided a cool, refreshing blast from time to time.
Inside The Selkie, you can't help but notice the cotton details on the ceiling, mimicking fluffy clouds. There are colorful LED lights in the mix, with relaxing hues of shimmering blue while I was there. The staff informed me that these colors can easily be changed and have been used a lot for their weekend brunches.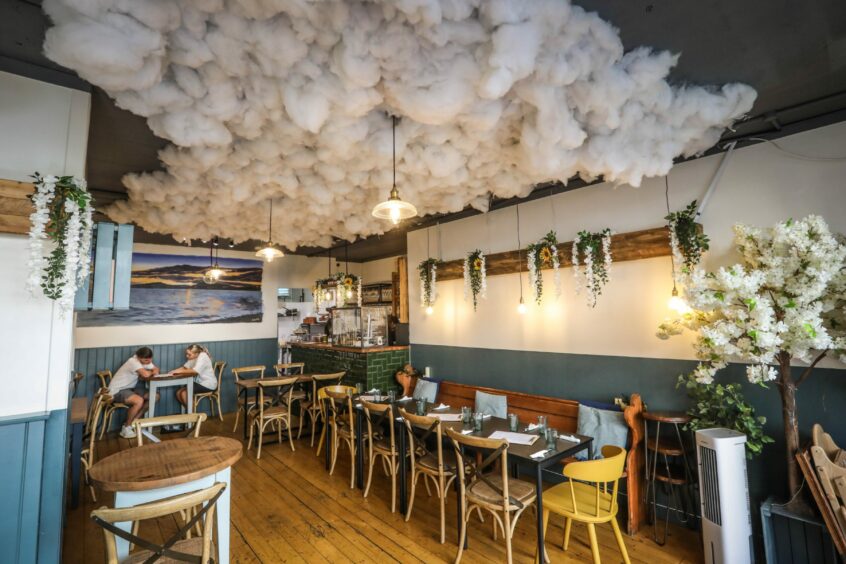 The rest of the place is lovely. It's not big, with around 24-30 covers, but it does have faux flower foliage and a wonderful piece of artwork that was painted directly on the wall by one of the team friends studying art.
I had already received a menu before my colleague Mariam walked through the door just after 6:30 p.m. and offered to order a mocktail.
She opted for the sparkling passion fruit while I liked the citrus fruit one. These were served in a tumbler with ice and contained fresh juices and sodas.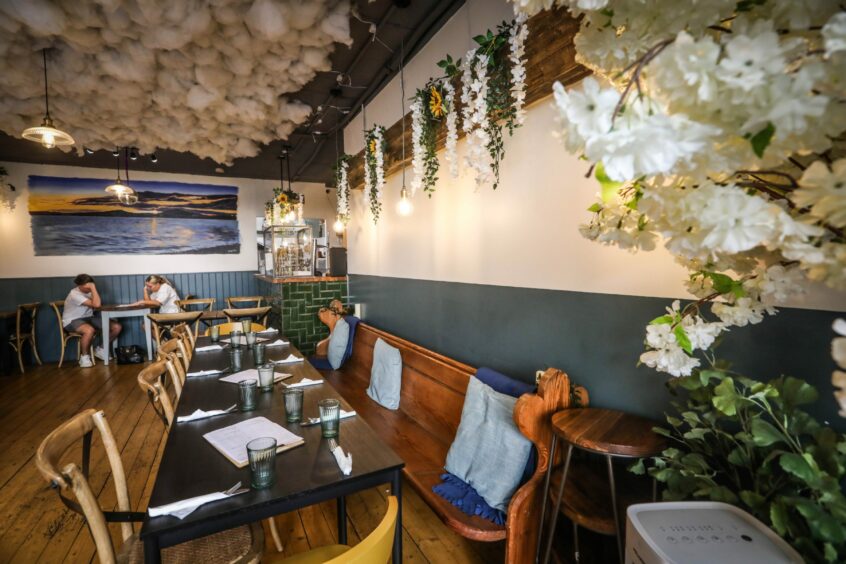 The food
There are plenty of options on the menu with a good mix of meat, fish, veg and vegan options. What I liked the most was the price. All dishes were £2.50 minus a few dishes with asterisks next to them which were £4.
We were advised to take five each, so spread out on the side of caution and ordered eight plus a board of bread, salad and oils (£2.50).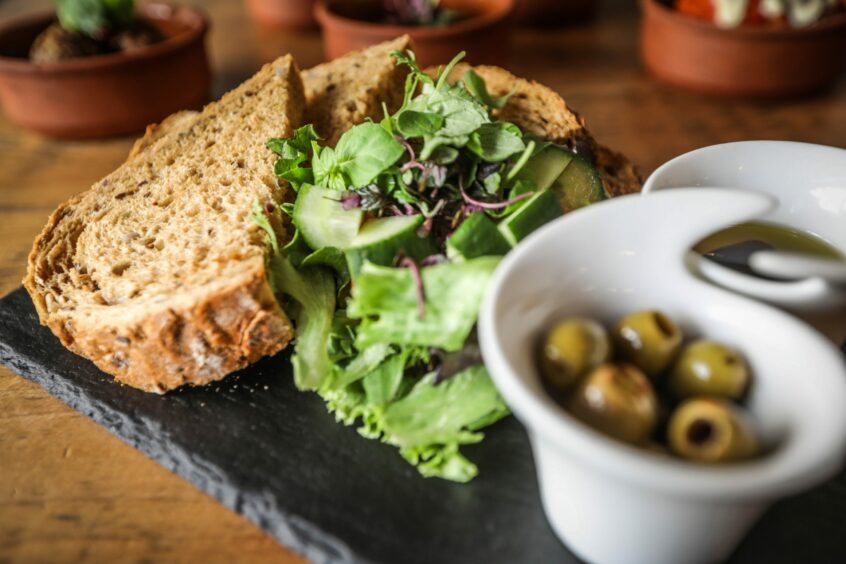 The dishes all arrived as they were ready. The bread with the salad which had been tossed in a vinaigrette was first, quickly followed by the sea bass in red pepper butter (£4). We split the piece of fish in half and the crispy skin was delicious. The butter was subtle, but the fish itself was perfectly cooked.
As Mariam does not eat non-halal meat or consume anything with alcohol, I had the chorizo ​​and black pudding with red wine and honey (£2.50) all to myself. I was skeptical if it would work, but I was so glad I took our server's recommendation as it was my favorite of the night. There were plenty, but it was the way the meats were cooked and the sauce itself that sold it to me.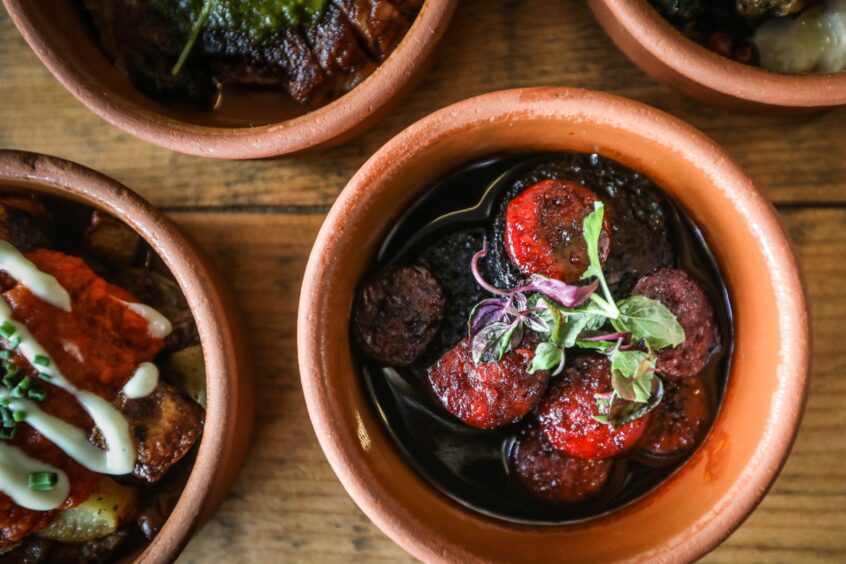 Mariam's vegan meatballs (£2.50) in a sweet tomato sauce weren't long in coming. She said the texture was like meat, which she liked, and the sauce was well balanced. There were three balls and she gave me half to try too.
A low-key sizzle making its way to our table alerted me to the next dish – prawns pil pil (£4). Sizzling in the smallest skillet I've ever seen, the oil danced around the six prawns cooked in boiling oil. They were reasonably sized and scrumptious and we both commented on how much we enjoyed them.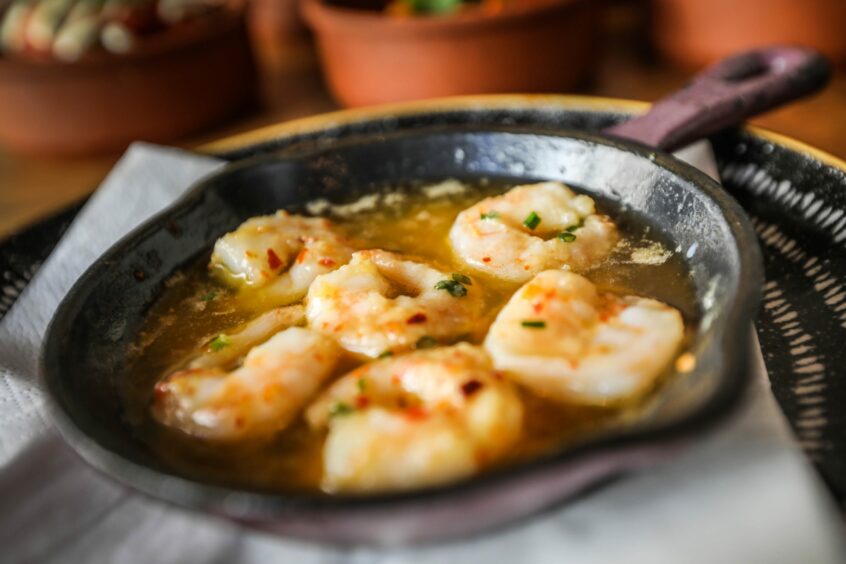 Then there was the mini meze (£2.50) which Mariam chose. This vegan dish included hummus, sweet potato falafel (two), and sun-dried tomatoes mixed with olives and other Mediterranean vegetables. Using the bread from the salad, she dipped it in the hummus and scooped out as much as she could.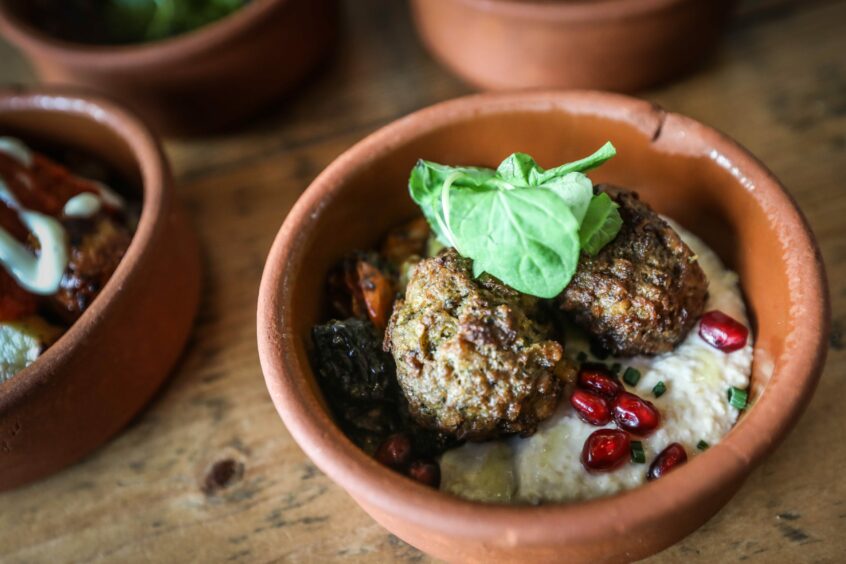 We were still eating the other dishes and the food kept coming. The table was getting busy and two more vegan options – the patatas bravas and the chickpea and pepper stew (£2.50 each) – then graced the table.
You can't go wrong with chunks of baked fried potatoes smothered in a rich tomato sauce and creamy garlic aioli.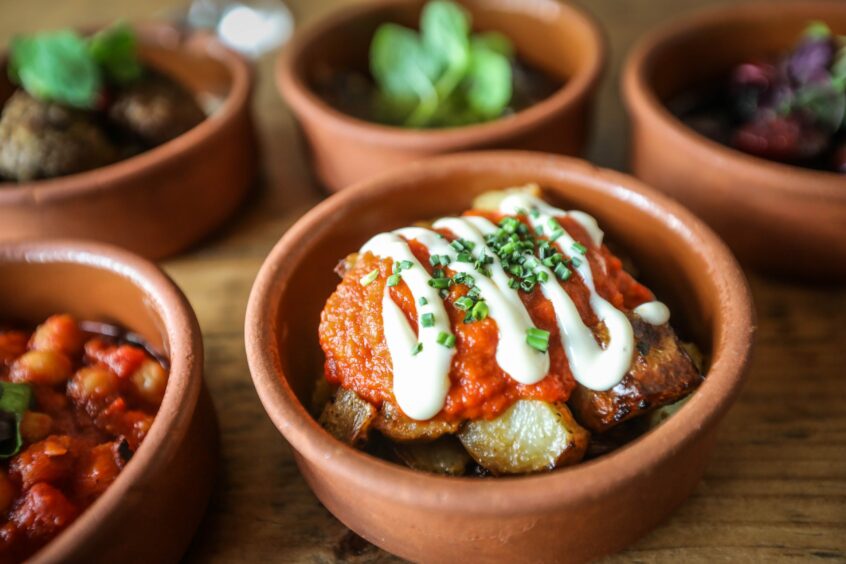 The last dish to hit the table was my seared sirloin steak with salsa verde (£4). Another one of my top picks, I hadn't told them how I wanted my steak, but it was served medium/rare, which I was grateful for. There's nothing worse than an overcooked steak, especially when cut into small, thin slices.
The salsa verde was tangy and tangy. It went really well with quality beef and provided an instant kick of flavor. There was also minimal fat on the steak.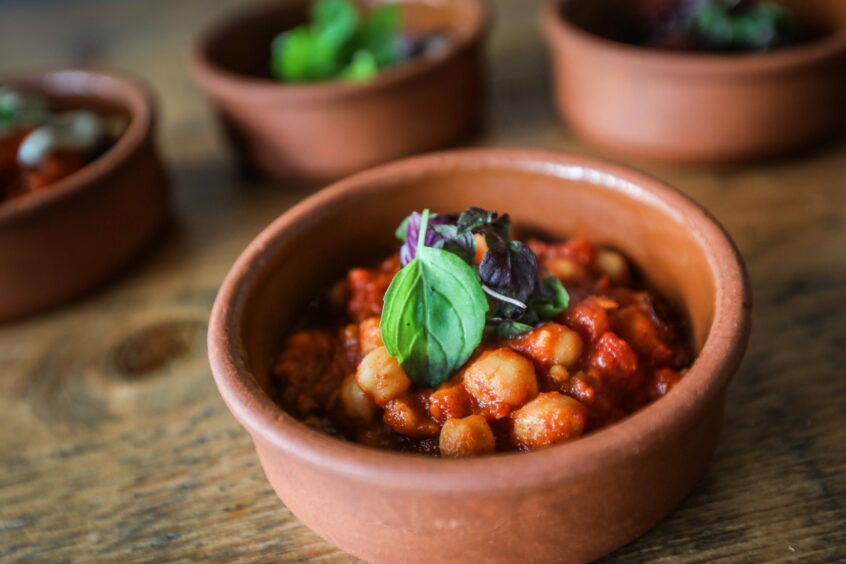 We just and no more succeeded in polishing the small plates and did not dare to ask to know if there was a dessert menu.
It was great to see so many people enjoying the offerings and the dishes were flying around the venue as more and more diners ordered favorite dishes that they had fallen in love with over and over again.
Other options included everything from marinated chicken skewers, seared tofu and sweet chilli, halloumi and balsamic tomatoes, warm artichoke and Manchego salad and garlic and herb mushrooms for n' to name a few.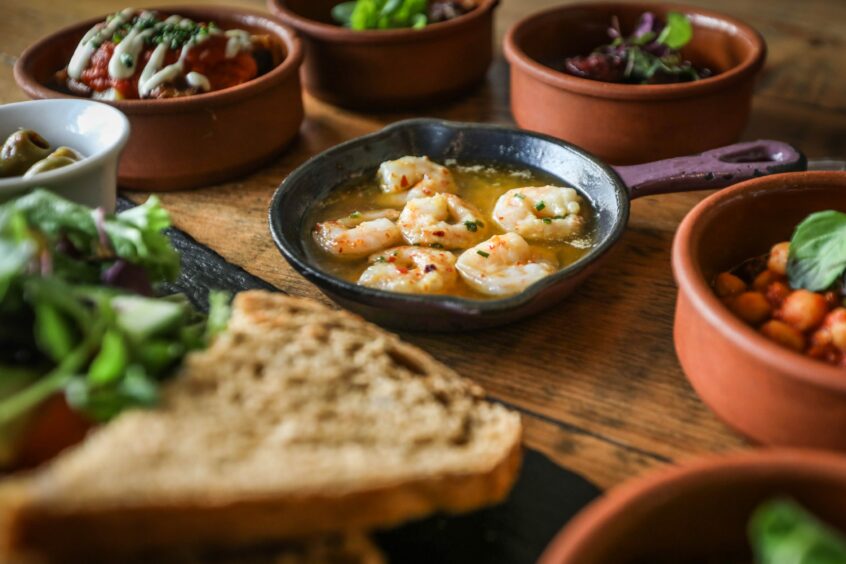 The verdict
The fact that the dishes are delivered as they are prepared means that they are as fresh as possible. It's hard to refrain from ordering more, so I'd say order some and then order a few more instead of having them all at once.
We ordered everything in one and the flow of dishes was busy at times with our table filling up quite quickly.
That being said we managed to weave our way through all of them and for £2.50 or £4 per plate I don't think you can get this quality of food for these prices anywhere else in Dundee.
If you're looking for luxury and don't want to spend a fortune dining out, Selkie is an absolute must.
---
Information
Address: The Selkie, 27 Exchange Street, Dundee DD1 3DJ
Such. : 01382 698210
W: www.theselkie.scot
Price: £36
Scoring:
Food: 4/5
Performance: 4/5
Surroundings: 4/5
---
For more restaurant reviews…
Already subscribed? Login
[The Selkie in Dundee for Tapas Tuesday]
[[text]]