By Tracy Records
White Center Now Editor
Unlike past town halls convened by the county, the one held this year focused more on planning initiatives than specific county departments.
The town hall was held online this past Tuesday evening. Local Services Department director John Taylor ease. He recommended looking at community work plans:
COUNTY COUNCIL MEMBER: Member of the King County Council of this region Joe McDermott says he is recovering from COVID. He noted that his district stretched from Capitol Hill to Burien to the Vashon/Maury Islands. He acknowledged the fires that have ravaged the White Center business district over the past year and recapped King County's attempts to help with recovery and safety. He also noted the NH sub-area plan, participatory budgeting and the new ban on fireworks, taking effect this year. He also said the county worked hard to distribute the state and federal funds that came in for pandemic relief — requiring eight "supplementary budgets" to sort it all out. That money has gone to everything from vaccines to rent relief to increasing shelter capacity and tackling food insecurity by supporting food banks.
PARTICIPATORY BUDGET: The next guest was a member of the Community Investment Budget Committee work on it, Kimnang Seng. He explained that the committee includes members from all five "local service areas" in the county, including North Highline. Since June, the committee has been meeting once or twice a week. "It was a tough experience, but it was a great experience," Seng said, adding that CIBC has kept equity front and center. White Center submitted the most ideas for spending a share of county-allocated money, more than 300; in May, he said, the community will get a ballot for some of them. "Now we are in the proposal development phase." Here's the kind of stuff they're looking at: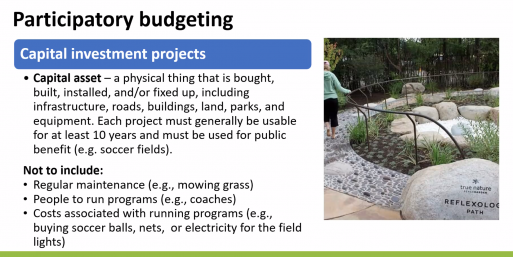 Skyway and White Center have additional money to spend in this process, from the marijuana tax, as the regions have borne the majority of cannabis businesses: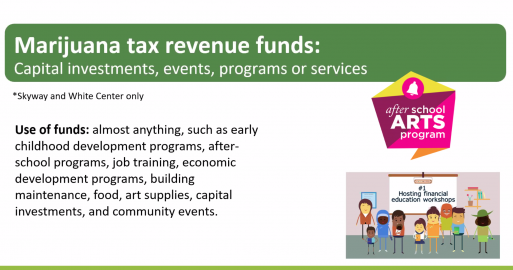 For more information on the participatory budget, go here.
LIST OF COMMUNITY NEEDS: We have already talked about that. Needs can be "anything within the county's power to meet," Taylor said. They worked on it with White Center Community Development Associationincluding the general manager Sili Savoussa was talking. Here is the overview of the process: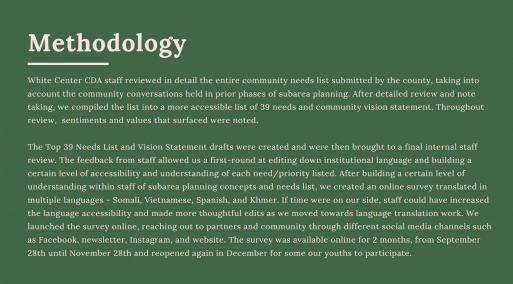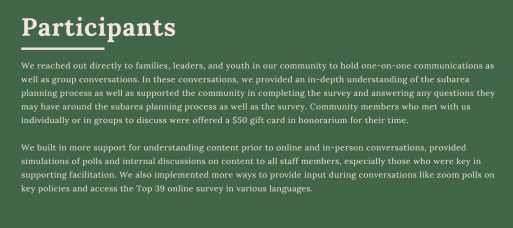 She also broke down the characteristics and demographics of the participants. (Also, 40% were owners, 44% renters.)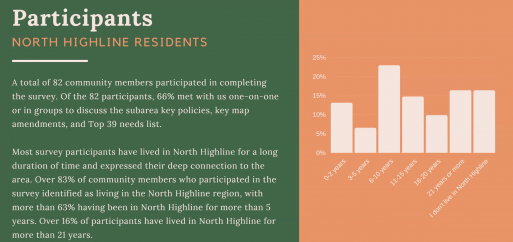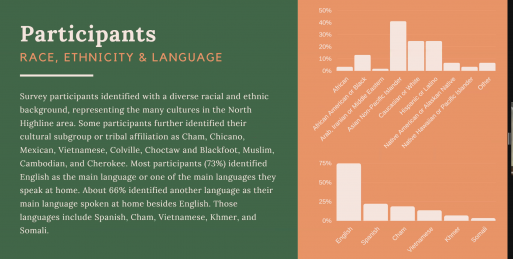 It's a 39-point list, Savusa said. They organized it into seven areas, ranked on a scale of 1 to 5, from least to most important. Here are the top-ranked points in accommodation: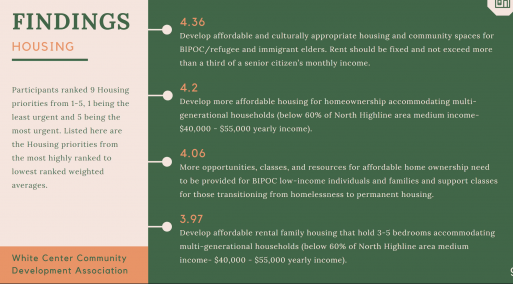 Top rated points in the community: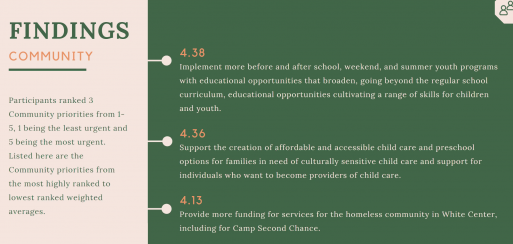 Employee: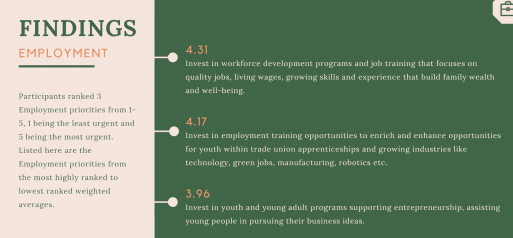 For companies :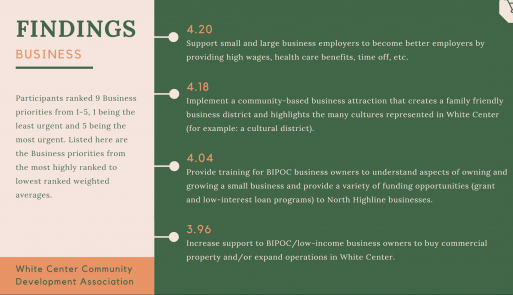 Safe: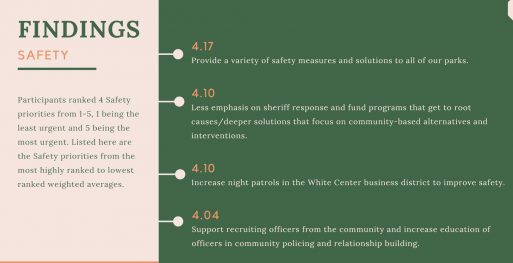 For parks: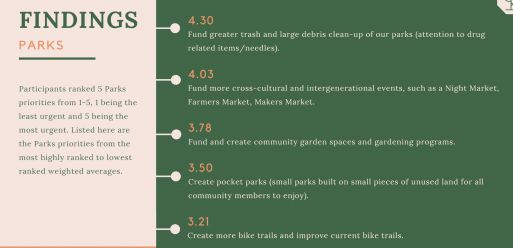 And for public transport/streets: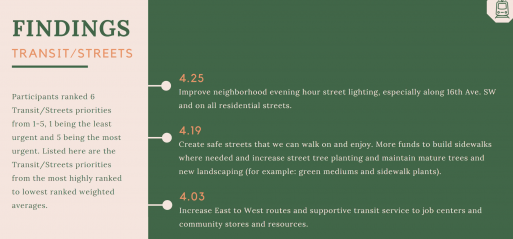 Savusa pointed out that the top 20 priorities overlap a lot. They also wrote a "vision statement" for North Highline: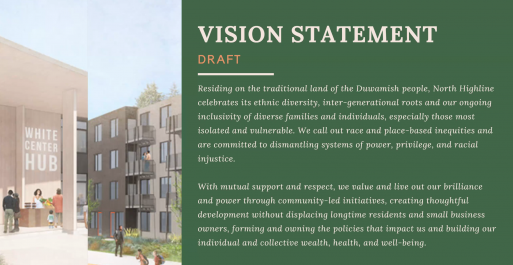 VOTE: The meeting then moved on to an informal online survey regarding some of the same priority areas. It was a rather small sample, and they had some technical difficulties along the way, so we're not reviewing. Overall, the responses from meeting attendees appeared to be consistent with previous county survey results presented along the way. Topics to note along the way included "building more sidewalks."
Q&A: Liz Giba was the first to ask one. She explained that she asked the county for help in protesting a recent request for another marijuana grow/process business on 16 SW and was denied. She went ahead and found a way to protest the request, which she says has since been denied, but wondered why the county couldn't help. McDermott believed that this type of business wouldn't necessarily require the type of stamp that another type of cannabis business might have. King County's Jacqueline Lewis, who is working on the sub-area plan, noted that the plan to be presented to county council later this month would specifically ban this type of business "in much of White Center. ". Another participant asked about a "disconnect" in the sub-sector plan and zoning maps. Taylor said the subarea plan reflects what has been heard from community members, not something the county is trying to pressure. He said the proposed plan is the result of two years of work with the community. McDermott said zoning maps are not a requirement to build. No, but it means that level of construction could be done, the participant reiterated. The next participant to comment noted that the zoning maps were difficult to read. She also said that none of her neighbors were aware of the changes in the works. McDermott promised "many more conversations" as plans and proposed changes progress through the formal public hearing process.
The next participant to comment said he felt many of the issues were "disconnected" from community concerns, such as needs in schools and growing "class division". He proposed questions such as "how can we redefine our priorities? to meet needs such as mental health. McDermott spoke about the Regional Homelessness Authority and its work.
Giba returned to the zoning map density proposals, reiterating that some drastic changes are possible. County officials said the zoning changes don't guarantee redevelopment will happen, but rather open the door for it. But the bottom line is that "that's where the growth is supposed to go," in urban areas, consistent with state policy, Taylor pointed out. A participant countered that White Center is not necessarily as "urban" as one might think, and that the lack of infrastructure is a challenge – she listed issues such as the lack of adequate public lighting, the lack of sidewalks. She says she has often heard that concerns "will be addressed in the future", but she remains concerned that there is not even enough basic information/awareness about what is propose. "Our voices are not heard." McDermott replied, "I hear your voice," and re-emphasized that it's not "smokin' through Council," that a final vote may be six months or more away. The participant said that she had a background in architecture and had researched the walkshed in her neighborhood, and that it was characterized as a "transit corridor", which "does not respond to the sniff test – she has to walk a mile for a bus.
Another participant suggested visualizations to help the community understand what is on offer. Then Barbara Dobkin spoke about transportation safety and dramatic changes in density: "What that (could do) is wipe out a community." She also said she "didn't have much faith" in the county after some issues over the years, dating back to 2012 when community advocates were told there would be no grocery stores. marijuana in North Highline – and suddenly there were half a dozen. Fast forward to the current challenges, she said, that the county was addressing — and all of a sudden, they're going to zone up. She listed a lot of recent builds and said, "Trust me, it's going to happen." She also echoed the previous speaker saying that no one in her neighborhood knows about the process. McDermott said he would do his best to be a lawyer; Taylor said her department did its best to be responsive. He said his department is "agnostic" about the content of the plan and just wants it to be "the best plan for the community."
What happens next with the list of community needs? It will be provided to county departments for review and consultation in the budgeting process, Taylor said.
Thyda Ros from the Khmer community said they wanted to make sure they were included in discussions and considered for budgeting; they still don't have a community center, for example, and face displacement.
HOW TO CONNECT TO KC LOCAL SERVICES: Town halls may only take place once a year, but they offer opportunities for online Q&As about local lunches at noon on Fridays – find out more here.


You can track responses to this entry via the RSS 2.0 food.You can skip to the end and leave a response. Ping is currently not allowed.