Mike Barber doesn't hesitate to rattle off the numbers. A 50-pound bag of flour that cost him $66 a few months ago now costs $87. Filling his tractor with diesel fuel costs him between $15 and $22 more than it did six months ago.
Like all Americans, that's the reality he and his wife, Judy Barber, face daily as they tend to their farm, Yorkville Hops and Produce, near Rockmart.
"We are only intermediaries for this. We just put the seeds in the ground and God does the rest," Mike Barber said.
They normally set up shop at Rockmart Farmers Market every Thursday; a variety of cucumbers, squash and peppers sit down on this hot June day. Like other vendors, they have worked to bring in as much produce as possible to help locals get something nutritious for themselves and their families.
"We have a lot of customers who come back because they know we'll get it," Barber said. "They know when they come here and get it from us, it will be fresh."
The love of fresh produce fuels a number of local farmers markets in the area.
In Rome, the Farmer's Market at Ridge Ferry Park near Riverside Parkway is open from 7 a.m. to 11 a.m. every Wednesday and Saturday. The new Cave Spring Community Market also sets up regularly – downtown every Saturday from 8 a.m. to noon. Cartersville offers the same, from 8 a.m. to noon on Saturdays, in its downtown area.
Then there's the Davies Shelter Farm Bus, a mobile farmer's market in Floyd County.
It's at CrossFit Rome, 314 E. First Ave., every Monday from 9:15-11am. On Tuesdays, it goes to the South Rome Alliance, 1 S. Broad St., from 11 a.m. to noon, then walks down one block to Etowah Terrace from 12:15 p.m. to 1 p.m. On Wednesday evenings, the bus stays at the West Rome Boys & Girls Club, 100 Gadson St., from 4:30 p.m. to 6:00 p.m.
Melinda King, manager of the Rockmart Farmers Market, said she had seen some of the prices go up from their vendors, but that was directly related to increased costs for farmers.
"So you're still going to have that. However, so far we haven't received any complaints from our customers about this, because everything is more expensive now. So it's not that outrageous that our prices have gone up" , King said.
Cut the "food miles"
The Rockmart Farmers Market opens every Thursday at 2 p.m. next to the Silver Comet Trailhead downtown. It is a non-profit organization that organizes and approves vendors within a 60 mile radius of Rockmart to sell locally grown fresh produce, meat and baked goods.
King has been in charge of the market since 2019. She said that while some sellers have raised prices, the market has an advantage over grocery stores.
"The difference between the farmers' market and the grocery store right now is that you're eliminating a lot of that supply chain problem that stores have where they're not getting shipments or they're not getting shipments. as much," King said. .
"Because these products are grown by the people who sell them and produced by the people who sell them, you will always be able to have the products you seek every day."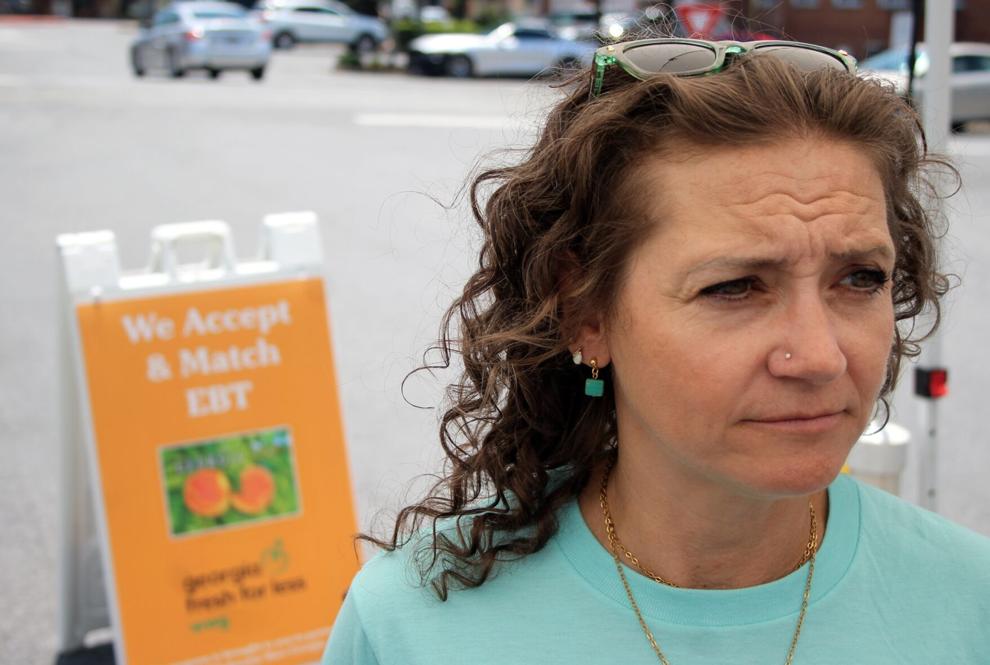 Kip Bishop has been a seller at the market for almost three years. Its Edangate farm in Kingston is a certified naturally grown farm, which means it uses no synthetic herbicides, pesticides, fertilizers or genetically modified organisms in the growth of its products.
"I keep telling my customers that you don't have to worry about a food shortage. There aren't any if you know where the farmers market is because you can get everything," Bishop said.
At the market, people can buy directly from the people who produce the food, and that makes all the difference, according to Bishop.
"It's called food miles. How many kilometers does it take for the food to reach you? A head of broccoli that has traveled 2,500 miles to get to the grocery store will not taste the same as a head that is six miles down the road. Every day it loses flavor and nutrients," Bishop said.
Bishop said he saw more and more people not just picking up a few tomatoes or a bag of carrots here and there, but coming in with canvas bags or carts and buying most of their groceries at the market.
"And that's smart. They get fresh produce, they get local produce. For the most part, it's certified naturally grown like us or organic, or at the very least just locally grown, and you know what went into your food," he said.
Packed inflation
The normal cost of doing business has risen across the board for industries and stores, services and restaurants, and farmers are not immune.
While Barber and his fellow farmers are aware of rising costs on things like fertilizer, gasoline and pesticides, they have tried not to pass the increases on to the customer.
"We try not to raise our prices, but to be a profitable farm you have to make money," Barber said.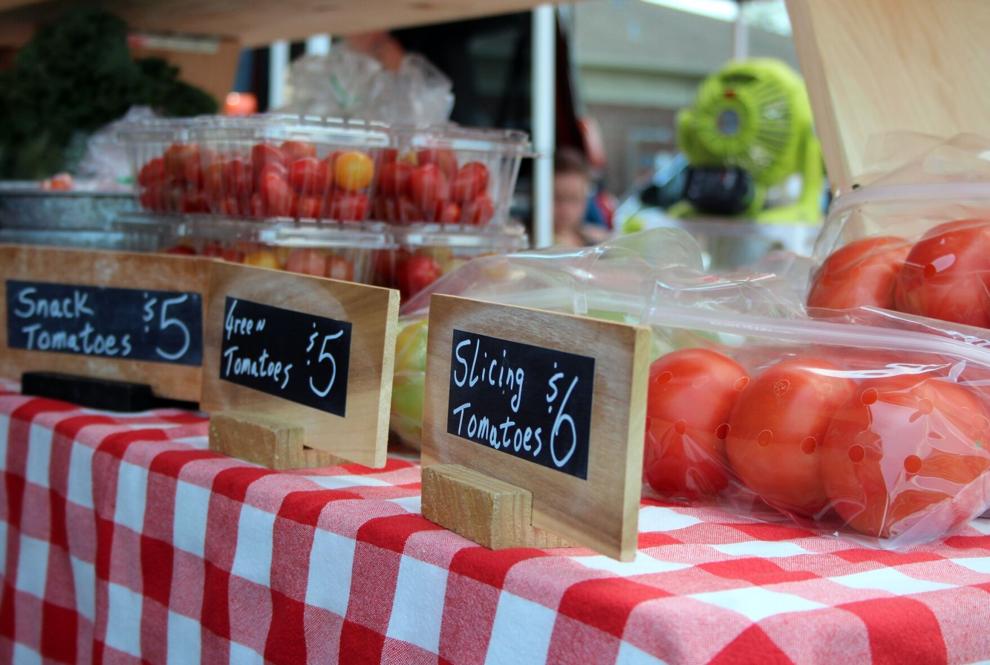 Edengate Farm began pre-packaging most of its produce when the COVID-19 pandemic began, taking precautions by ensuring all items were handled by people wearing gloves and masks, then packing them. putting in suitable containers or zipper bags.
Bishop said one example is their salad mix, which they sell in a 64-ounce plastic clamshell container.
"It's good for two weeks, but our packing costs…in one week have doubled. And then it came back a week later. We absorbed the first one, but eventually had to raise our price to offset packaging costs," he said.
Despite this, Bishop said the increased costs have not affected their sales.
A positive for Bishop is that as a CNG farm they have to use organic fertilizers, which were traditionally more expensive than chemically balanced 34-0-0 fertilizer, but are now cheaper because they are not at petroleum base.
Yet rising gas costs to power farm equipment and the trucks they use to transport produce to markets as far away as Smyrna have affected their bottom line.
"Most of the time, we didn't pass those prices on to the customer. Everything on our table is priced exactly like last year and we're trying to keep it this year," Bishop said.
Dual SNAP
People who receive government assistance to cover food costs have an additional reason to visit the market.
The Rockmart Farmers Market is partnering with Wholesome Wave Georgia to allow people who receive Georgia EBT or SNAP benefits to double the amount of their benefits when they purchase eligible food products from the market.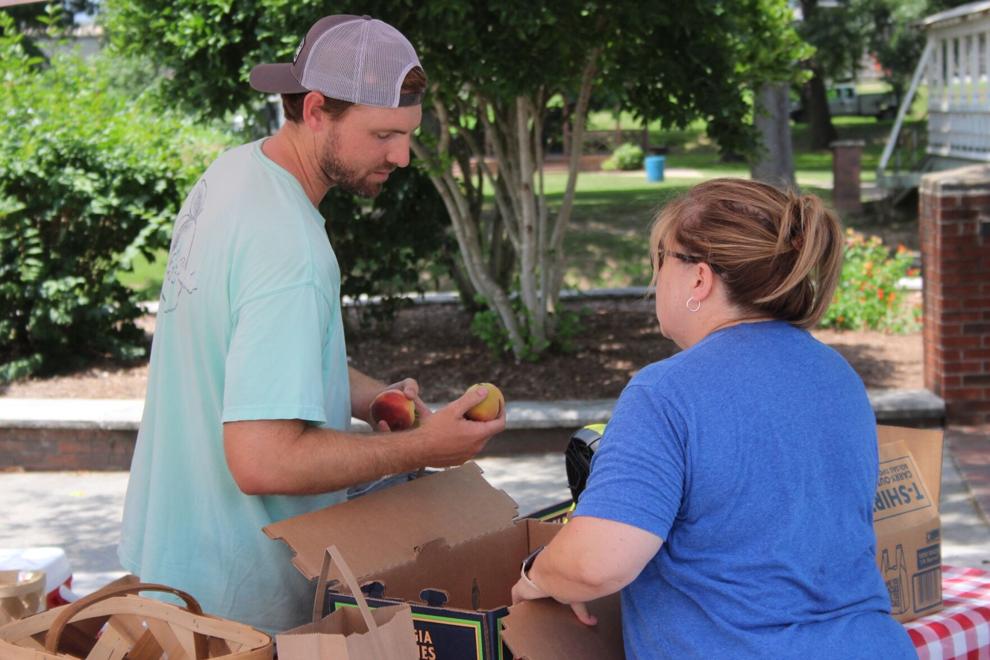 King said the way it works is for a person to bring their EBT card to the market manager's tent and ask to run $10 on the card to use at the market.
"They get $10 of these wooden tokens that go to all eligible food items, just like groceries, so their meat, eggs, honey, baked goods, and produce. But what they also get is $10 of these green plastic tokens that are good just for fresh fruits and vegetables," King said.
Customers exchange the tokens for each vendor's products. Vendors return the number of tokens they received at the end of each market, and King gives them a check for that amount at the next market.
Wholesome Wave Georgia matches up to $50 in EBT/SNAP benefits per account, per market day.
Bishop said several people came to see him at the Rockmart Market this year who either don't know about the program or just don't know how it works.
"I don't think there's a stigma attached to it, but a lot of times…they feel a bit of apprehension," he said.
He said a woman came to his booth at Rockmart and asked if he accepted EBT cards. He said he didn't do it directly, but took her to King and told him to come back and get what she wanted after he ran his card with her.
"And she came back down, she was literally in tears," Bishop said. "She said, 'Mr. Bishop, I didn't know that when I gave them $30 they were going to give me $60 to spend here. She said: 'I can actually buy groceries now.'