For my entree, I opted for one of the mainstays of Sylvan Table: trout with black rice with ginger, shiitake, leeks and beets. Trout has been one of the most popular dishes since the beginning. Gadulka says they sold out the first day in three hours, so he called his supplier and said he would need double the amount.
The next day they sold again and Gadulka said he needed more, and the response from the supplier was that he could no longer fish the Au Sable River for the restaurant as they would have to overfish to meet their request.
It's not hard to see why, because it's a showstopper. The trout is seasoned with herb oil, salt and pepper, cooked on the grill over a wood fire and served whole. Gadulka says he is working with a native community in UP to source rice to accompany the trout, another way Sylvan Table is trying to bring Michigan flavors to the plate.
Another night I went for the other must-try, the Chicken Under a Brick. Normally chicken breast is as exciting to me as cold oatmeal, but here it's cooked to charred perfection, again just seasoned with salt, lemon and fresh herbs to accent, not complicate .
Shareable sides often change to reflect what's in season. When I visited in late spring, it was peak ramp and fern season. Our server said that a few of the staff had recently searched Michigan treasures. The fiddlehead ferns have been sautéed with garlic, salt and butter – no more, no less, leaving the greens to proudly show off their unique charms of being sweeter than asparagus and herbier than green beans. .
The ramp dish was a bit busy, with a large serving of cranberry hummus and sumac dominating the ramps. With the season so fleeting, I would have liked a more edited dish – ie more ramps, less filler. The ramps were jumped perfectly though.
Desserts are a must. Even if you're not a sweet tooth, you won't want to miss the creative and whimsical dishes that punctuate the end of the meal. There were three choices and it was hard to decide which tempting treat to get.
By the time you read this it will be September, so chances are that means apple crisp made with fresh local apples. My table mate had it in the spring, with apples that were in storage and put away for that time of year, and thought it couldn't get any better. So I guess you won't be disappointed.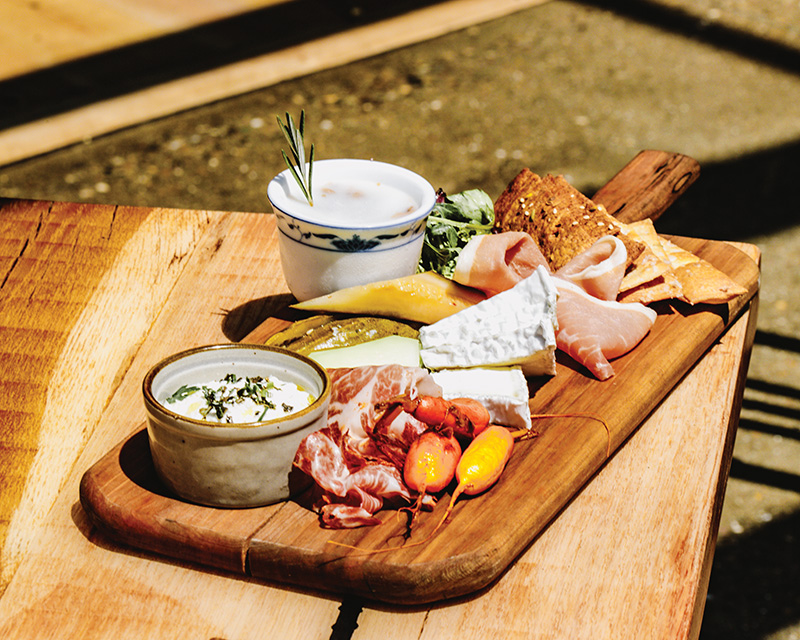 I opted for the AB&J Panna Cotta, which is the most elegant and sophisticated peanut butter and jelly sandwich I have ever eaten. With rye bread-infused ice cream, blueberry jelly, and almond butter, the panna cotta showcases the skill and craftsmanship of the kitchen perfectly.
"Locally sourced food" is a buzzword that many restaurants throw themselves into the market, but Sylvan Table truly lives the farm-to-fork philosophy — even with something like marshmallows. Sylvan Table farmer Rick Rigutto planted the plant used to make the confectionery on site, Nicole says. It is this type of experimentation and creativity that excites him.
"We probably won't be buying marshmallows anywhere else," she says. "It would be fun to have on the menu for a week, … homemade marshmallow from the marshmallow plant we grew."
Michigan is the nation's second most agriculturally diverse state, but it sometimes doesn't get the same love as frontrunner California. At Sylvan Table, the team presents the best of the state's delicious bounty.
---
This story is from the September 2022 issue of Hour Detroit magazine. Find out more in our digital edition.