"For the most part, Lonsdale does not overstep the bounds. My way is to do what I think is best at the time, seasonally and we are lucky to have some great local suppliers. There are foodies in the area who return night after night. —André Boutilier
Reviews and recommendations are unbiased and products are independently selected. Postmedia may earn an affiliate commission on purchases made through links on this page.
Content of the article
Winston
Or: 228 Lonsdale Avenue, North Vancouver
Content of the article
When: Brunch, Wednesday to Monday. Dinner: Wednesday to Saturday
Information: 778-340-6393, winston-on-lonsdale.com
You may have noticed this fancy restaurant on Lower Lonsdale.
Winston opened two weeks before the COVID-19 pandemic hit, prompting owner Andrew Boutilier to say it felt like a ping-pong ball for two years.
Winston was supposed to look like his other operation, Koffie, a coffee shop in downtown Vancouver, but with a bigger kitchen. It would also offer dinner service.
Boutilier hired Douglas Lee as chef last September. Lee comes with a resume that includes scenes and jobs at Hapa Izakaya, Joeys, Savio Volpe, L'Abattoir, Royal Dinette, Tocador and Nightingale.
Lee possesses the tenacity of pit bulls and an outside-the-box work ethic. He didn't do well in school so he set about making amends, mopping up his cooking skills. At 17, he staged at a three-star Michelin kaiseki restaurant in Kyoto, the mecca of kaiseki. He lived in the basement, slept five hours, and learned incredible knife skills without knowing a word of Japanese.
Content of the article
"I went to learn about food, discipline and how kitchens work," says Lee. "I couldn't go back because I had no money to go home."
Lee then experimented at Michelin-starred restaurants in Los Angeles and San Francisco — some paid, some not. At one time, he worked 15 to 17 hours a day, sometimes up to 22, then returned "home" to a station 15 kilometers from his job where he slept with his luggage. In the morning, he ordered a pizza from a nearby Domino's to be delivered to his workplace.
"I would sit outside and ask the driver to deliver me too," Lee says. "It takes a lot of work to make the kind of food these restaurants make."
When Boutilier interviewed him, Lee wore a baseball cap, glasses and a face mask. It was only later that he learned that his boss was 24 years old.
Content of the article
"He's a very unique person, very hardworking, very intense and very knowledgeable," says Boutilier. "He's very, very particular about who he gets on board and I want to make sure Doug is comfortable."
The name of the restaurant alludes to Winston Smith from the novel 1984, the protagonist who fights against totalitarianism. Boutilier doesn't like gobbling small business giants.
"Communities are based around independent businesses. They are the cornerstone of a city," he says.
Brunch at Winston, which is quite conventional, is "super busy," says Boutilier, "and dinners are picking up again."
Lee's dinner menu is unsafe and familiar, instead aimed at diners who welcome the unique.
"In most cases, Lonsdale doesn't overstep the mark," says Boutilier. "My way is to do what I think is best at the time, seasonally and we're lucky to have some great local suppliers. There are foodies in the area who return night after night.
Content of the article
Boutilier only has a few requests: no offal. No head.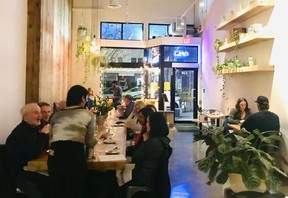 An a la carte menu — with entrees from $10 to $32 — changes monthly. A more adventurous $50 per person, five-course "Dinner Roulette" menu changes constantly.
Lee has been influenced by Thai, Chinese and Latin American cuisines and he shows a lot of love for vegetables.
"I take pride in cooking decent vegetables," says Lee. "Anyone can cook meat, but it's harder to cook delicious vegetables."
I loved the big delicate, almost floating cracker made by frying rice paper and seasoning it with Sichuan pepper and salt. I would like a constant supply of this, please.
A dish of Hiramasa trevally and ahi tuna, a checkerboard of white and red sashimi on shiso leaves, is served with a thickened and sweetened condensed milk Vietnamese green sauce. Very well!
Content of the article
A wedge of sesame milk brioche arrives with condiments of pomelo skin and pineapple herb marmalade, salted duck egg and curry leaf. Pineapple weed looks like a daisy, tastes a bit like Sichuan pepper, "numbing or dehydrating the tongue a bit," Lee says.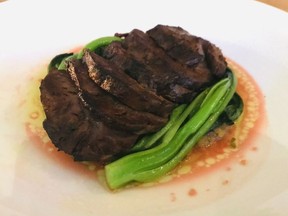 The dry-roasted Taiwanese cauliflower came with sesame tahini dressing and clown pickles – nicknamed this for the range of colors – and jazz apple slices and chili oil. Dry-aged, dry-aged char siu pork ribs cured for two days are roasted with fermented red tofu batter and covered with a blanket of chives. Lots of umami here.
Indian eggplant, coated in guajillo mustard vinaigrette and roasted, was topped with a contrasting crispy lotus. I didn't find much flavor on this dish, but it has changed since my visit – it's now barbecued and served with Vietnamese pesto and taro chips.
Digital roasted beef, the muscle controlling the cow's toes had been brined, then braised for several hours and served with a vinegar sauce of red curry leaf – tender and flavorful but not a wet cut.
The wines are currently preserved by Boutilier who has a penchant for natural wines. He's looking for a wine professional, but it's been very difficult to find experienced staff in the North Vancouver job market, he says.
instagram.com/miastainsby
vancouversun.com/tag/word-of-mouth-blog/