This has been over a decade since three Twin Cities bosses armed with hammers, paintbrushes and around $2,000 changed the face of downtown Robbinsdale. Work 1.0 was avant-garde: the chefs were also the servers; the multi-course fine dining was wild and crazy; and the chefs tables in the middle of the kitchen meant a whole new experience for some diners.
But over time, Work became 2.0 down the street, and then a beautiful, multimillion-dollar Michelin-starred 3.0 building across the street: new ambitions, new audiences, and new labels of price. Tasting menus at $135 per person are not what Labor originally aspired to. Work's neighboring concept Pig Ate My Pizza (which replaced Work 2.0) tried to keep the party vibe, but the focus on pizza was also limited. So chef-owners Mike Brown, James Winberg and Bob Gerken did something bold: they shut down PAMP and launched a gastropub in the same space, New Brewing.
"People asked us, 'Where is the old Work?' Winberg says. He reminded me that Work had started without those tasting menus. "We were just a restaurant, a brasserie that served good food."
And so the new Nouvelle Brasserie starts with beer, and that's impressive. Head brewer Andy Goettsch was the head chef at Travail Kitchen and a home brewer on the side. Luckily, Goettsch isn't one of those guys who shoves their awful IPA at you as you slowly creep out of their garage trying to escape. Instead, there are 26 rotating taps that touch every style of beer: light, hoppy, malty and sour. Order one flight of each category. I particularly enjoyed the crispiness and clean bite of the Pilsner Large Fries.
As Goettsch creates new beers, chef Nate Moser works on a changing menu. Some things will always be there: the same burger that was a cult favorite during happy hour at PAMP is on that menu. But there's also tartare, a version of steak tartare that was part of Travail's early days and is served almost like bruschetta, except on this buttery, airy, crispy, heavenly focaccia bread created by Travail's pastry chef, Alex Altoff. Nate and Alex are married, which is a way to achieve work-life balance.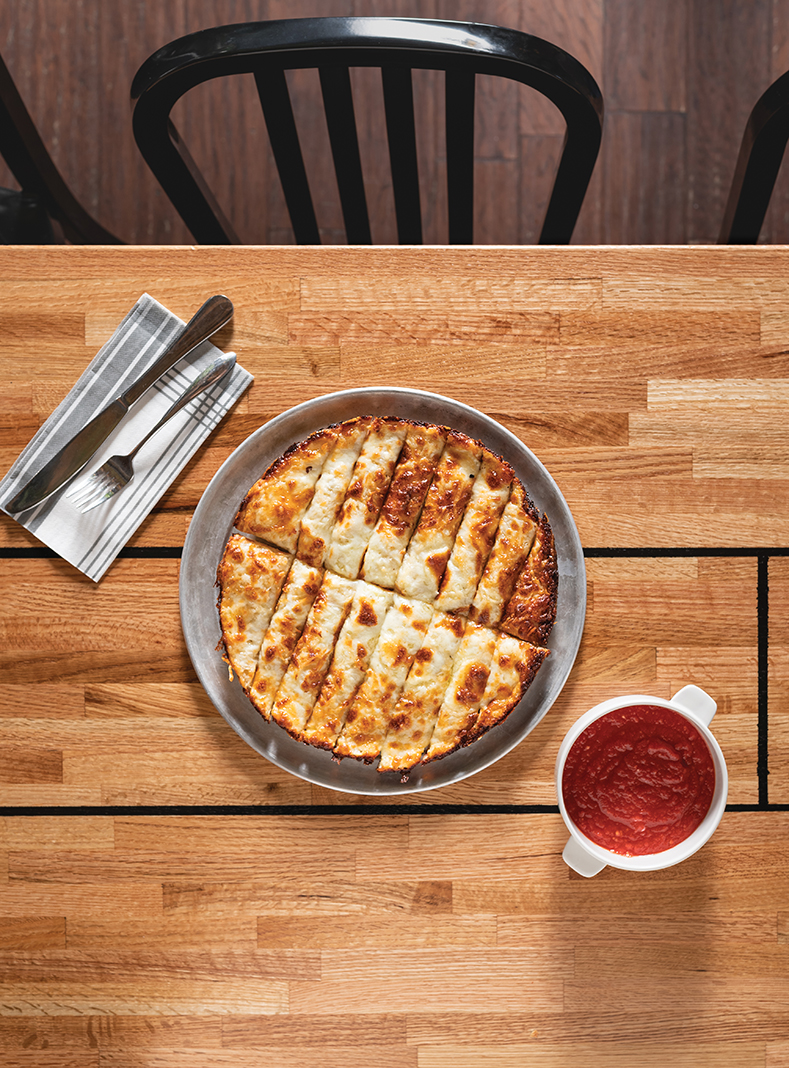 The tartare is a true celebration of contrasts: the raw meat of the strip loin with a Dijon and garlic aioli, balanced by the acidity of pickles, capers and shallots. It's a $17 snack you'll love. You are also going to get the cheesy garlic bread. The Nouvellian Dunkers ($16) are a pure throwback to the school cafeteria's Italian dunkers, except on a Pizza Hut-inspired beignet brioche dough the team used to make the pizza at the old restaurant.
Goettsch's Pigasus lager features prominently in the pub mussel dish ($17), adding richness to a creamy, garlicky serrano broth. They wisely give you a side of fries to dip in there.
Accessible and familiar dishes for us as diners are creative challenges for chefs. They create plates using the three-tier pizza oven, and that's all they have to do. You'll see rotating "sizzler" plates, including a fantastic crispy pork belly ($18) with coconut green curry sauce, or they can come up with a creative way to play with shrimp or chicken thighs.
If there's one dish I crave from our visit, it's vegan chili. I know, I was surprised too. Made with impossible meat, it's an incredibly large and incredibly tasty cast iron pot of magic. There's so much depth to this chili broth thanks to the tomato, garlic, and intense spices, I wouldn't have known it was vegan if they hadn't told me.
The desserts here are also very good. Croissant brownie isn't a very exciting name, but, oh my, that slab of chocolate ganache on a layered pastry crust made me swoon. A subtle sprinkle of sea salt on top completed a great dish ($8).
So, does this new establishment reflect the spirit of the original Work? The service reminds me of the early days of Work, but that's not necessarily a good thing. During our visit, there were long waits for people trying to order at the understaffed bar and a jarring tinny sound when someone decided that 7 p.m. was the right time to turn on a machine that cleans the silverware.
But the spirit of experimentation and high quality food are very present here. It's a place where you feel welcome as soon as you walk through the door, making it a true neighborhood restaurant in every sense of the word. The team at Travail continues to evolve and Nouvelle Brasserie is a welcome addition to the gastronomic scene.
New Brewery
4124 W. Broadway Ave.,
Robbinsdale, 763-537-7267,
newbrewing.com

Reservations: Walk-in only
Hours: Wednesday-Thursday, 3 p.m.-9 p.m.; Friday, 3-10 p.m.; Saturday, 12 p.m.-10 p.m.; Sunday, noon-6 p.m.
Instagram star: Tots loaded with pork pastrami