Content of the article
The provincial government's latest reopening plans will take effect Thursday at 12:01 a.m.
Advertising
This ad has not loaded yet, but your article continues below.
Content of the article
For restaurant owners and staff in Kingston, the changes can't come soon enough.
On that day, the province will increase social gathering limits to 50 people indoors and 100 people outdoors, and remove capacity limits for indoor public places where proof of vaccination is required for restaurants, bars and other food establishments without dance facilities.
The vaccine passport system will be phased out by March 1, but businesses and other regions can still choose to require proof of vaccination, the provincial government said. Masking requirements will remain in place for the time being.
Additionally, the Kingston Frontenacs of the Ontario Hockey League can increase attendance at Leon's Center from 500 to approximately 2,700, or half the arena's capacity, for their next game Friday night against the Ottawa 67's.
"We're super excited to reopen on the 17th. It's been a long time for sure," said Terrence Meltz, General Manager of Olivea Restaurant.
Meltz said Olivea can return to a more normal way of doing business and reduce its takeout menu.
"We have the take-out freezer and the take-out shelf, and it will be sad for some people to see them go, but we are happy to have tables back here," he said.
Meltz said the restaurant on the corner of Brock and King streets has had to adapt to each lockdown and reopening in the province.
"We did 50% capacity, but there were no restrictions on social distancing," he said. "We got a bit lucky on Valentine's Day and only had tables for two so the restaurant was full but was at 50 percent capacity."
Advertising
This ad has not loaded yet, but your article continues below.
Content of the article
The main pandemic challenge for Olivea was maintaining staffing levels.
"Whether I'm serving two people or 50 people, I still need to have the same number of staff in the kitchen, and we need to make sure our sales are high enough for that to happen," Meltz said. "Not being able to bring all my staff back at the same time has also been a challenge.
"It will be good from next week to have everyone on board."
Karen Cross, chief executive of the Greater Kingston Chamber of Commerce, is also happy to see the restrictions eased.
"This is obviously good news for Ontario businesses and their economic recovery. Absolute victory there," Cross said. "It will be great for people who will no longer be checking local business passports. It's definitely a cry I heard across town today.
"We want to make sure this is a sustainable opening of businesses and the government has a plan to keep businesses open and continue (to stay open). We hope not to go back.
"The main challenges (for chamber members) have been open and closed, the yo-yo effect for businesses – having to lay off staff, trying to rehire staff. And trying to find staff because they got a different job, and labor shortages are the biggest issue we hear about most often. »
Many local businesses have gone into debt during the many shutdowns, and some businesses can take three to five years to fully recover, she said.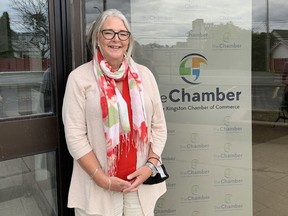 "We're hearing about how long it will take for businesses to get out of the debt they've had for so long in this pandemic," she said. "Please buy local to help these small businesses pay off debt and recover faster."
Advertising
This ad has not loaded yet, but your article continues below.
Content of the article
Kingston and the Islands MPP Ian Arthur said he and the NDP party want to see things open up in Ontario.
"We need to bring businesses to full capacity. We know kids need to get back to school and not be interrupted like they have been. The pandemic is taking its toll on the best of us," he said.
Arthur thinks the vaccine passport system should stay after March 1.
"But we don't really see vaccine passports themselves as a particularly difficult restriction, and they provide a lot of support for businesses to know they can operate and open safely, and for schools to know that 'they have vaccinated people in their rooms. So I think it was a very quick decision and I'm worried about the reasons for the decision.
Arthur said he hasn't heard any complaints from people or companies about vaccine passports.
"I think it gave people a sense of security when they have to be out in public and interact with people on their job site or wherever they are," he said. "What we don't want to see is a reversal of the requirement to roll back because the Ford government moved too quickly to lift some restrictions that aren't particularly prohibitive."
"We need to reopen businesses, we need revenue, we had a lot of bankruptcies over the past winter and we knew each COVID winter was going to get harder and harder for small businesses, and that's exactly what we've seen play out.