There's nothing quite like relaxing on a Caribbean beach without a care in the world except deciding which tropical cocktail to order next, and on a cruise you'll get the chance to do that on a different beach every day !
With crystal clear, turquoise waters and soft white sand, you will find some of the most beautiful beaches in the world in the Caribbean Sea, and while you will find beautiful beaches on every island, there are a few that eclipse the others.
This list could have contained hundreds of beaches, as there are plenty of gorgeous beaches to discover in the Caribbean, from the Bahamas to Puerto Rico and beyond.
However, when you visit a cruise ship, you have a limited time to explore each island. It is therefore important to ensure that the beaches you visit are close enough to the cruise port.
Luckily, many of the best beaches in the Caribbean are located within easy driving distance of the region's cruise ports. Here are the 11 best beaches you can easily access from the port on a Royal Caribbean cruise.
Trunk Bay, Saint John
One of the most idyllic beaches in the Caribbean is Trunk Bay, located in the Virgin Islands National Park in St. John, US Virgin Islands.
Trunk Bay is nothing short of a tropical paradise, and there's even a scuba diving trail providing information on marine life and coral formations. Island facilities include food and drink stalls, bathrooms, beach chairs, and snorkel rentals.
You can reach Trunk Bay through an excursion or from the Cruz Bay Ferry Terminal in St. Thomas. A taxi is required to reach the ferry terminal from the cruise port.
Related: Guide to Visiting St. John on a Royal Caribbean Cruise
Magens Bay, St. Thomas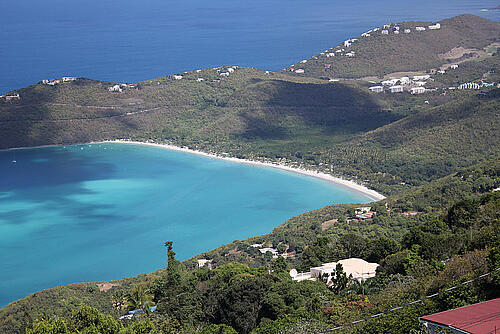 St. Thomas' most famous beach is Magens Bay, a one-mile stretch of calm waters and soft, fine sand. Due to its beauty and proximity to the cruise port, it is an extremely popular destination for visitors to St. Thomas.
There are enough amenities on the beach to get you through the day, with bathrooms, showers, a restaurant, concession stand, bar, and beach chair/umbrella rentals.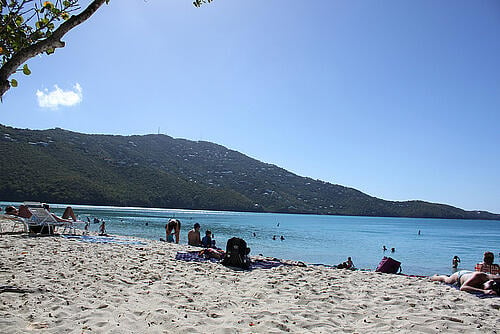 Taxis or shuttles are available to reach Magens Bay, which is a 15-minute drive over mountainous terrain, offering stunning views of the island. Taxis are more economical than booking a tour, especially when traveling with large groups!
The only downside to Magens Bay is that it can get very crowded, especially when many ships are in port!
Related: Things to do in St. Thomas on your Royal Caribbean cruise
Orient Bay Beach, St. Maarten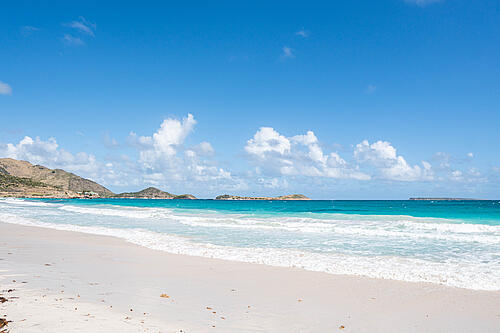 Located on the French side of St. Maarten, Orient Bay Beach is a 1.5 mile stretch of pristine white sand with turquoise waters.
The southern end of the beach has many beach bars, restaurants and hotels, while the northern end offers few services but more peace and quiet.
Be sure to sample French cuisine at the beach, with several French restaurants and bakeries located nearby.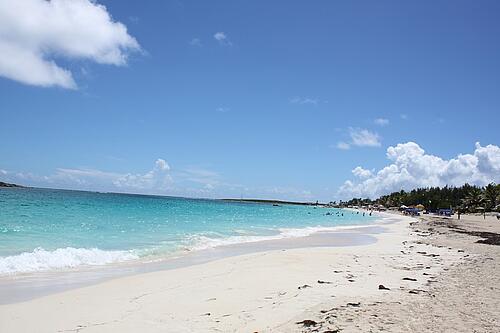 Related: The best things to do in St. Maarten on your Royal Caribbean cruise
While many cruisers flock to Maho Beach in St. Maarten for the chance to see planes soar overhead before landing at the airport adjacent to the beach, Orient Beach offers better swimming conditions and of relaxation.
To note: The southern end of the beach is without clothes.
Playa El Cielo, Cozumel, Mexico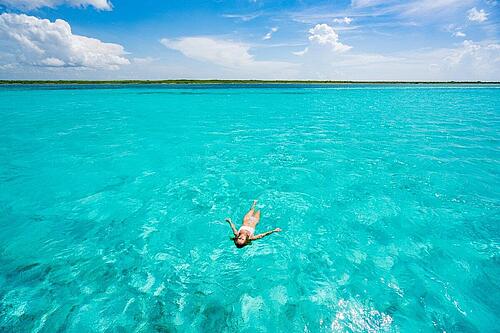 El Cielo means paradise in Spanish, and that should be enough to say that Playa El Cielo is heaven on earth!
Located on the southwest coast of the island of Cozumel, Playa El Cielo is not accessible by road. The best way to reach this corner of paradise is by boat, and you will find several excursions by visiting the beach.
Most tourists visiting Playa El Cielo tend to snorkel, as this area of ​​Cozumel has incredibly clear water and an abundance of marine life, including starfish and stingrays.
Related: Things to do in Cozumel on your Royal Caribbean cruise
Valley Church Beach, Antigua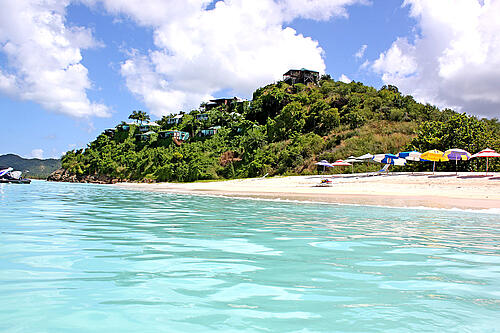 The small nation of Antigua and Barbuda has an impressive total of 365 beaches, one for each day of the year!
Valley Church Beach is one of the best on the island of Antigua and is about a 20 minute drive from the cruise port. Located in Valley Church Bay, the beach has calm seas and incredibly blue water.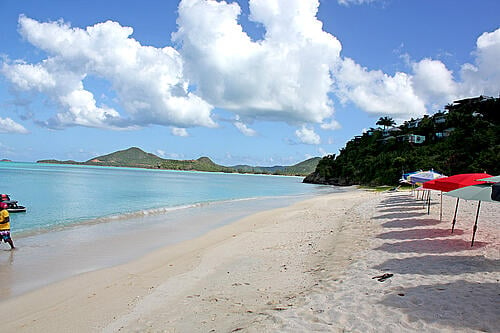 Although there are a few hotels and restaurants near the beach, it remains relatively undeveloped, making it a more serene beach experience than most on this list.
Sun loungers and umbrellas are available for hire on the beach.
Related: Focus excursion: Valley Church Beach in Antigua
Eagle Beach, Aruba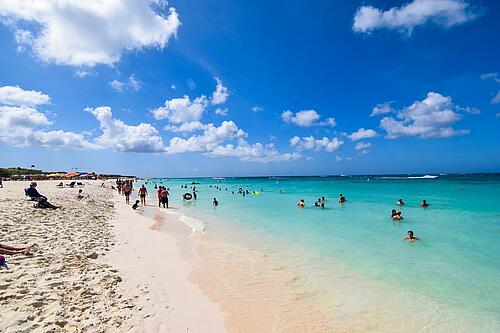 Although visiting Aruba requires a bit more travel time than visiting islands closer to the United States, it is certainly an island worth visiting.
Aruba is covered in breathtaking beaches, but the "best" is generally considered Eagle Beach, a wide stretch of soft white sand leading to the most turquoise and clearest water on the island!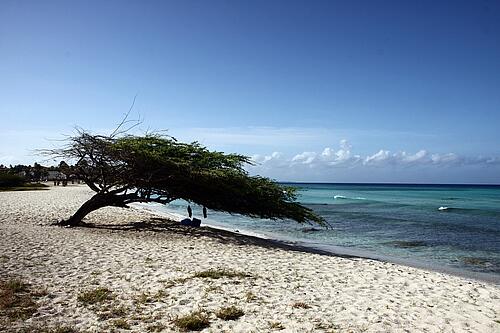 Eagle Beach is also home to two Fofoti trees, a twisted tree that grows on the beach and is shaped by Aruba's mighty wings, causing the trees to always point southeast. These trees are an iconic symbol of Aruba and make for a great photo opportunity!
Eagle Beach is located approximately 3 miles from the Aruba cruise port, so it is recommended to reach the beach by taxi. Some shore excursions may also include a stop at the beach.
Seven Mile Beach, Grand Cayman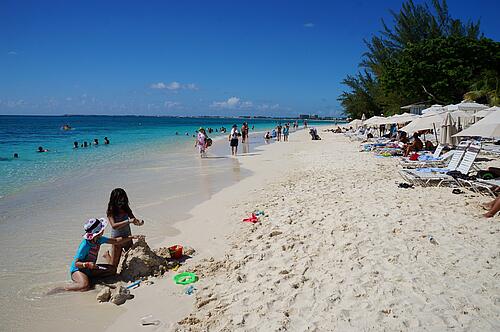 Seven Mile Beach, located on the island of Grand Cayman, is consistently listed as one of the best beaches in the Caribbean. This roughly 10km (not 11km!) stretch of white sand beach is the perfect setting for visitors looking to relax in paradise.
Due to the size and popularity of the beach, there are plenty of amenities along Seven Mile Beach, with no shortage of restaurants and bars to enjoy while on Grand Cayman.
Seven Mile Beach is conveniently located just a 10-minute drive from the Grand Cayman cruise port, making the beach accessible by taxi or bus.
West Bay Beach, Roatan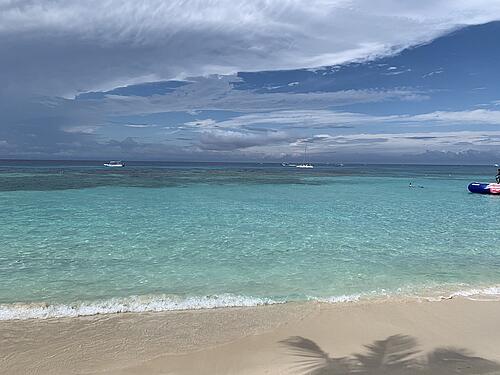 One of the most common port calls on a Western Caribbean cruise itinerary is the island of Roatan, located north of mainland Honduras.
West Bay Beach is a beautiful tropical landscape, with a palm-lined sandy beach and incredible snorkeling just offshore. Many resorts, hotels, restaurants, and bars can be found at West Bay Beach, along with a plethora of activities like snorkeling, diving, and parasailing.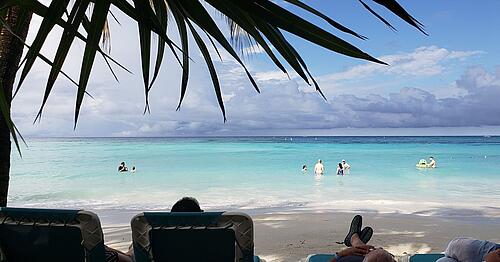 Roatan is famous for its diving and snorkeling opportunities, and a coral reef is located just steps from the beach.
The beach is located approximately 30 minutes by taxi from the cruise port. You'll also find several tour options that provide transportation to and from West Bay Beach.
Barefoot Beach, Labadee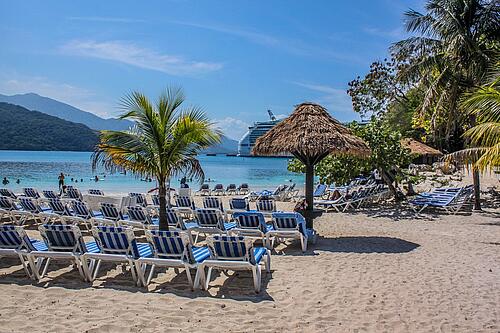 When you arrive at Royal Caribbean's private destination in Labadee, Haiti, you'll likely be in awe of the peninsula's stunning scenery. Green mountains and small coves dot the landscape surrounded by beautiful, clear water.
While all of Labadee's beaches make for a wonderful day in port, one of the best is Barefoot Beach, reserved for Royal Caribbean suite guests.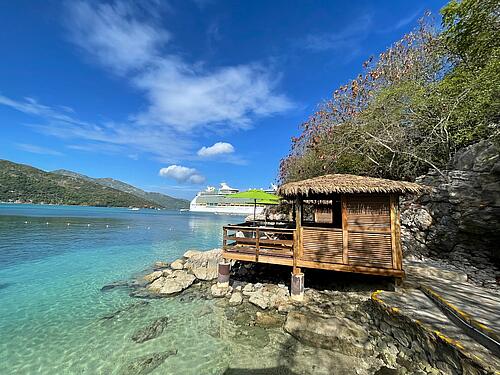 An upgraded lunch buffet and bar are available on the beach, along with cabanas available for reservation. There are more than enough free sun beds and umbrellas available.
Related: Beginner's Guide to Labadee
Jalousie Beach, Saint Lucia (Sugar Beach)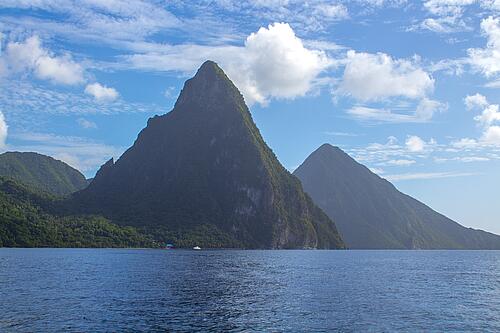 Saint Lucia is most easily recognized by the Pitons, which are two mountainous volcanic plugs rising more than 2,500 feet above sea level on the coast.
At the foot of the Pitons is Jalousie Beach (Sugar Beach), a small white-sand beach set in a cove that offers magnificent views of St. Lucia's unique landscape. When you picture Saint Lucia, you're probably picturing the view you'll see from Jalousie Beach.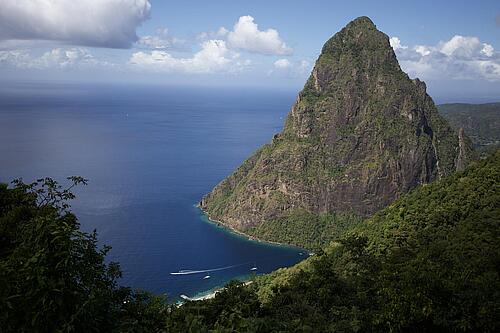 At the beach are a few restaurants and the resort of Sugar Beach. Snorkelers and divers can enjoy the underwater marine reserve on the edge of Petit Piton, the smaller of the two Monts Piton.
Reaching Sugar Beach takes about an hour and a half by car from the cruise port, so booking a beach excursion is recommended, especially if you have limited hours in St. Lucia. Some excursions can reach the beach by speedboat rather than by car.
Great Anse Beach, Grenada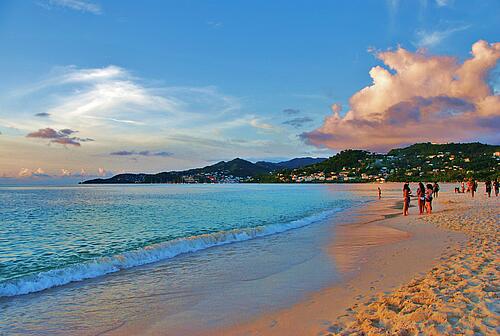 The tiny island of Grenada has over 45 beaches, but the most popular beach on the island is Great Anse. Stretching two miles in length, Great Anse Beach offers ideal Caribbean beach conditions with plenty of amenities.
A variety of beach activities are available at Great Anse Beach, including water skiing, parasailing, and snorkeling. Sun loungers and umbrellas are available for hire.
If you are looking for a more secluded beach, head to Morne Rouge Beach, which is just a 5 minute drive from Great Anse Beach. This beach will have even calmer and clearer waters than Great Anse beach with less crowds.
Great Anse Beach is located five miles from the Grenada cruise port. You can reach the beach by taxi, public bus or water taxi. A water taxi is the quickest option, taking only around 10 minutes to reach the beach from the boat.
Looking for more travel inspiration? Start here: